^ Back to Top
About Us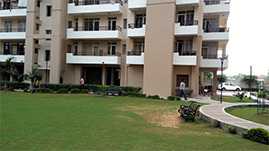 Dynamik Developers Private Limited has a rich history of over 50 years, when its founder S.Balwant Singh Aulakh was associated with many reputed architects & engineers and established a strong foundation for further expantion.

Presently The Company is being managed and directed by a team of highly qualified engineers led by S. Yashpal Singh Aulakh, a highly enthusiastic entrepreneur. The team of engineers and professionals lay a strong emphasis on teamwork, synergy, professionalism and excellence in work. The management team again, is a rich blend of seasoned veterans, hard working managers and well - networked achievers. Driven by its rich and varied experience, sound technical infrastructure, professional manpower and commitment to timely execution, the company undertakes infrastructure and building promotion projects at all locations in India under the guidance of S. Yashpal Singh Aulakh, with its sole aim as not only to provide dream homes to its customers but also to provide them with quality of life.

Keeping this view in mind this company has launched its first project i.e., SKY VIEW APARTMENTS in BHIWADI, RAJASTHAN , a fast growing industrial town approximately 30 kms. from Gurgaon and 5 kms. Off NH.8. In fact Bhiwadi forms part of Regional Plan 2001 for NCR and has acquired the status of a regional Centre / Priority Town of the National Capital Region. SKY VIEW APARTMENTS offer a spacious, peaceful & blissful living along with all the modern amenities and facilities.

After getting a good welcome response in this new venture , The Company has short listed more projects for its future growth, one of them being commercial (with Offices, Showrooms, Restaurants, Food Court & Banquet hall )cum residential(with Studio Apartments) project.